Discover our new broadcast studio!
To upgrade remote events we just set up a broadcast studio in our Parisian headquarters. Focus on this amazing solution you can use to upgrade your live event and broadcast interviews.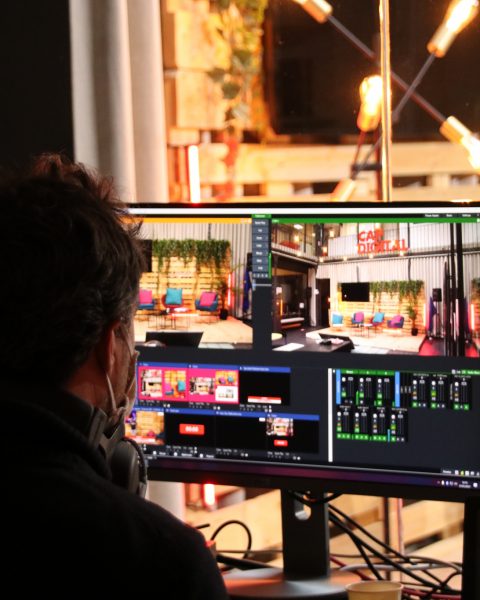 Why should you use this studio?
The sanitary crisis has durably impacted the event sector. To help you accelerate your events digitalization and efficiently produce your filmed interviews, we propose an integrated solution : Cap Digital's STUDIO.
The globalization of live streaming events
Since the beginning of the crisis, habits and practices have deeply changed. Interactive, agile, less time consuming, live streaming events often federate larger public audiences than the physical events.
Maximise your events impact
With the multi channel broadcast of your events, you can increase your chances of reaching your key audiences. And thanks to the replays, your events content remain accessible as long as you wish.
An agile and hybrid solution
Do you plan to organise an event both streamed and physical? It's possible! Our studio can host your audience on-the-spot in addition to the live broadcast.
Premium facilities for your interviews
Produce your filmed interviews in a brand-new studio, in Cap Digital's HQ, an "Eiffel" building located in Paris, 10th arrondissement.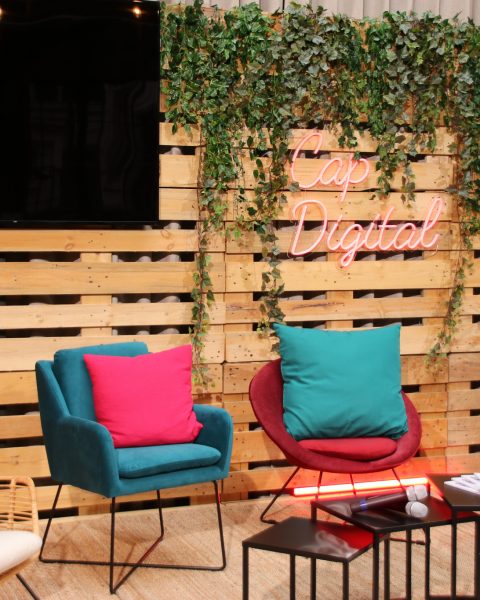 Professional equipment for a fully integrated solution
What technical equipment compose the studio?
The set
A stage of 15m² (4 speakers)
A public area of 65m²  (20 spectateurs)
3 PTZ Cameras
1 Back screeen
2 headband microphones et 4 handheld microphones
2 PA speakers
1 Back speaker
A modular lighting
Modular stage furniture
A green wall as a stage background
Control workstation
A Vmix captation and production workstation
A LIVE streaming workstation
Duplex live transmission up to 4 remote speakers
Sound controller
PTZ Cameras controller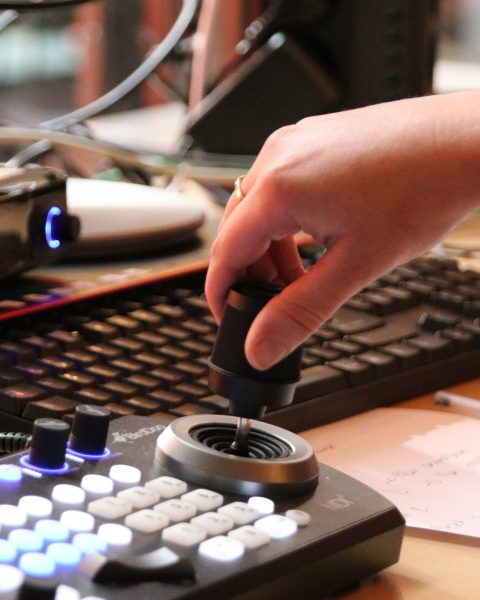 Studio rental
Produce your events and your video shooting in our studio. Ultra-attractive prices for Cap Digital's members.
Studio rental fee
3000€ excl tax.

Price member per day
6000€ excl tax.

Price others per day
Book the studio
You are not part of Cap Digital's community yet? This is the opportunity to join the first European cluster for digital and ecological transition (member fees from 200€ excl. tax. per year).
Included
Provision of the set, control workstation and equipment including the support of our team to identify and precise your needs, preparation and arrangement of the spaces.
Not included
Video capturing, production and editing. We can adress technical service-providers familiarized with our studio. Catering, make-up, hairdressing are not included in our offer either.
Additional services on demand
In case of hybrid events, adjoining rooms can be rent to accomodate lodges and/or install and serve a finger food cocktail. Find out more about our spaces available for rent.
Contact
Do you want to organise an event or a filming in our STUDIO ? Or just visit us to discover the set and workstation?
Contact our team!
Rent a space
Our team helps you organise a tailor-made event that fit your needs.
Next